A walk in the heart of the Ternes district
Publish on Tuesday, 10 May 2016 in Visit Paris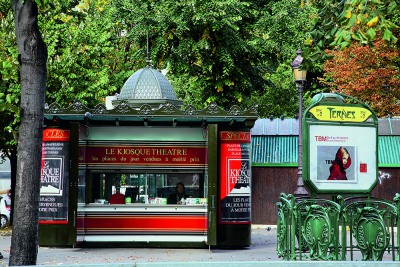 Located in the 17th arrondissement, in the north-west of Paris, not far from the Place de l'Etoile, the Ternes district is both varied and fascinating. Take a walk to explore its distinguished and friendly streets, bustling markets, its impressive Haussmann era buildings and shimmering green spaces. Explore this vibrant neighbourhood during your stay at the Hotel Niel.
At the crossroads
Once a village before being absorbed by the city, the Ternes district can be found where the 17th and 8th arrondissements of Paris meet. Mainly residential, and having the distinctive and authentic Parisian ambience, it stretches from the Avenue Wagram, with its delightful 19th century Haussmann architecture, towards the Boulevard de Courcelles, in the direction of the Rue du Faubourg Saint-Honoré, and on to Neuilly.
A district with a stylish touch
Although it is situated towards the periphery of the capital, the Ternes district still has oodles of Parisian chic. The prestigious apartments and elegant buildings reflect a privileged style of life, but despite this luxurious aspect, the neighbourhood retains a friendly warmth day and night. Here you can meet all kinds of people. Those with a weakness for sweet treats will find much of interest in the restaurants, pâtisseries and other shops in the area.
Wander from discovery to discovery
The Ternes area holds many pleasant surprises that are best discovered and explored at a walking pace. In addition to commercial areas, flower markets and green spaces, there's the Cernuschi Museum and the Parc Monceau. Named after its art collector founder and inaugurated in 1898, the Cernuschi Museum boasts a superb collection of Asian art, the second oldest of its kind in France. Near this museum, you will find the Parc Monceau, a pleasure garden dating from the late 18th century and covering more than 8.2 hectares. It includes a rotunda, an oval pond fringed with a Corinthian colonnade, several charming architectural follies, and marble statues of writers and musicians such Maupassant and Chopin.
« Back to articles