A romantic stroll along the banks of the Canal Saint Martin
Publish on Tuesday, 11 July 2017 in Visit Paris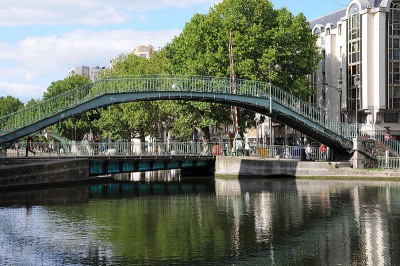 Does the prospect of a romantic stroll in a delightful setting tempt you? Then why not succumb to the charms of a picturesque walk along the Canal Saint Martin? You'll enjoy the foliage-shaded banks, the slow and stately ballet of pleasure boats negotiating the locks, and a stopover for a picnic beneath the rustling leaves. Let the Hotel Niel guide you along this delightful waterway.
A short stroll from the Quai de Valmy
We advise setting off from the Quai de Valmy where you can find, situated between numbers 83 and 93, some charming shops offering clothing, jewellery, shoes and décor items. There's also a bookshop with a wide selection of works dealing with image and design, and a space in which young artists can present temporary exhibitions.
Continuing towards the Jardin Villemin you'll see shared gardens lovingly maintained amidst plane trees, chestnut trees and black pines. Not far away are the remains of the Couvent des Récollets, formerly a hospital where wounded soldiers were cared for, especially during the two World Wars.
Continue your walk to the Point Ephémère at no. 200. This fashionable cultural centre is ideal for enjoying a cocktail at the water's edge. If the walk makes you hungry, you'll have the choice between a picnic under the trees or a gastronomic break in a small, friendly restaurant such as the Bulle, a charming establishment located at 48 Rue Louis Blanc, a street that crosses the Quai de Valmy.
Strolling past the 9 locks along the Quai de Jemmapes
Keen walkers will want to try the walk past the canal's locks, setting off from the Quai de la Rapée, Place de la Bastille, where the first lock separates the Seine from the Bassin de l'Arsenal. You'll pass in succession through the two locks of the Temple following the subterranean section. Continuing to the Bassin des Marais you'll arrive at 102 Quai de Jemmapes and the famous Hôtel du Nord, immortalised by Marcel Carné's film of the same name starring Arletty and Jean Gabin (even though no scene was filmed there because it was all recreated in the studio...)
Continue your walk along the Bassin des Recollets and the Bassin Louis Blanc before reaching the Fayette underpass, which will take you to the last lock before the Bassin de la Villette. This superb body of water, created in 1808, is the perfect place for practicing water sports such as rowing.
Photo credit : Moonik
« Back to articles