A romantic walk in the Parc de Bagatelle
Publish on Thursday, 10 August 2017 in Visit Paris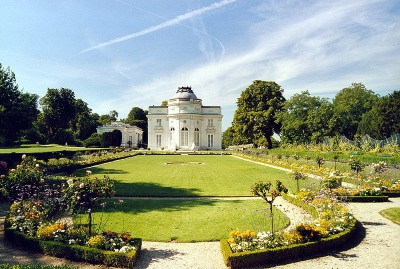 A haven of peace and a bubble of greenery and serenity in the heart of the Parisian tumult is the Parc de Bagatelle. This green lung located in the 16th arrondissement has everything needed to be ranked among the most romantic places in the capital. The Hotel Niel recommends this delightful public park for your romantic walk.
A green jewel born from a strange wager
The Parc de Bagatelle, located in the heart of the Bois de Boulogne, is one of the four most important botanical sites in the capital and one of the most enchanting. This magnificent 24 hectare botanical garden, created in 1775, was built in just 64 days, born out of a wager between Queen Marie-Antoinette and her brother-in-law the Comte d'Artois, sibling of Louis XVI. The Comte d'Artois, who would become King Charles X, had bought some land with a rundown hunting lodge in the heart of the Bois de Boulogne, then the hunting ground of the kings of France. The Queen said that it was impossible to build a park with a palace in under three months so the two made a bet. To meet the challenge she set him, the Comte hired more than 900 workers and spent over 100,000 livres.
A romantic and relaxing walk in the midst of nature
The park was transformed over time to become the romantic garden it is today. It now houses lawns, gigantic trees, lakes, ponds, water lilies and paths suitable for a romantic stroll. A Chinese pagoda and other follies, as well as the splendid neoclassical palace, the plans for which were drawn up virtually overnight, complete this idyllic setting that attracts walkers in search of tranquillity.
During your stroll, you'll have the opportunity to admire an orangery, a vegetable garden and botanical collections including nearly 10,000 rosebushes representing more than 1,200 species. Your walk will also take you to discover the beauty of the irises, perennials, and Mediterranean gardens to be found along the way. You will inevitably fall under the spell of the romantic atmosphere of this place steeped in history.
Photo credit : Giraud Patrick
« Back to articles