Romantic stay ? Cupid on the Seine!
Publish on Saturday, 10 February 2018 in Unusual Paris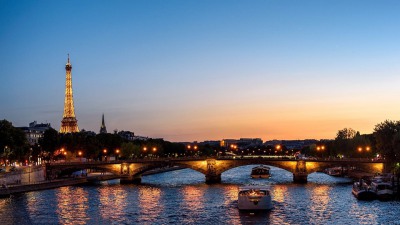 You've planned a romantic stay in Paris… Cupid, mischievous cherub, is already sharpening his formidable arrows... For the occasion, the Hotel Niel recommends a romantic and gourmet boat cruise on the Seine. Discover a different side of Paris during two hours of pure wonder...
The perfect romantic setting
To surprise your sweetheart and experience an unforgettable evening, nothing beats a romantic cruise on the Seine. Embark on a fabulous journey along this iconic waterway, a timeless ride with the backdrop of the monuments of Paris sparkling with a thousand lights in the night... A magical setting for a perfect evening of togetherness! If you can take your eyes off each other you'll see the Ile de la Cité, Notre-Dame Cathedral, the Louvre Museum, the Concorde, the Musée d'Orsay and then, best of all, the Eiffel Tower in all her illuminated majesty. Your barge will glide gently from bridge to bridge, revealing along the quays some of the historical and architectural treasures that have, over the centuries, contributed to the greatness of Paris.
A gourmet getaway
To the pleasure of the eyes you can add that of the palate because your romantic cruise will also feature a gastronomic experience combining refinement and originality. Take your pick of the various packages offered by the riverboat companies and then simply look forward to an intimate meal for two comfortably seated by a large window from which to watch the passing scene. Enjoy the special experience of an excellent dinner enjoyed with the one you care about the most.
However, your romantic getaway would not be complete without a certain sparkling drink adding its own particular brand of magic to the enchantment. A celebration you will always remember; truly happy moments, good food to savour, Champagne bubbling in your glasses through the evening and the lights of Paris all around.
« Back to articles