Roland Garros, an international tournament and the Parisian festival of world tennis
Publish on Sunday, 10 April 2016 in Events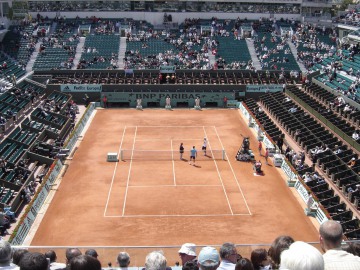 The prestigious French Open tennis tournament will be held again this year on the clay courts of the famous Roland Garros stadium in Paris from May 16th to June 5th 2016. At this major event in the world of international tennis the world's greatest players compete to win the famous Coupe des Mousquetaires trophy before the rapt gaze of delighted spectators. Don't miss this climactic tournament of the clay court season that is also the second Grand Slam event of the tennis year.
Dates to note in the French Open at Roland Garros
The tournament's qualifying matches will be played from May 16th to 20th. This will be followed by a charity day on the 21st in which the world's top players of yesterday and today showcase their skills in a friendly atmosphere for a good cause. The French Open proper begins on May 22nd, with the women's finals on June 4th and the men's finals taking place on June 5th. In parallel, the junior and wheelchair tournaments reveal extraordinary athletes who promise breath-taking spectacle.
Activities, fun and entertainment around the main event
In the Roland Garros Lab, visitors can put themselves in the shoes of a ball boy, try jump tennis on a trampoline, and track the speed and trajectory of a ball in the smash corner. In the Roland Garros Live space you can follow the games live, and meet your tennis idols in the Social Loft. The complex has several restaurants, many takeaway counters, various terraces and two grocery stores, so finding something to eat between games is no problem. A museum traces the history of tennis and hosts exhibitions of contemporary art, photographs and comic strips, and there's book signings and even jazz concerts. Finally, at close of play, you can return to your room at the Hotel Niel for a relaxing evening.
Picture credits: Nawal
« Back to articles