Your Night of Museums at the Grand Palais and Petit Palais
Publish on Tuesday, 10 April 2018 in Events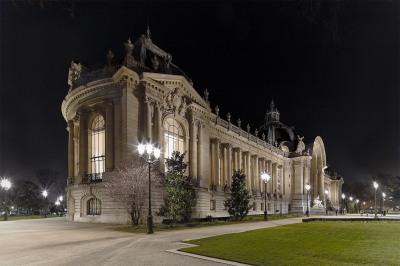 This spring, why not stay in Paris for the Night of Museums? On May 19th, this annual favourite event of Parisians allows you make the most of the best museums in the capital, which remain open well beyond their usual hours. The Grand Palais and Petit Palais, a short distance from the Champs-Élysées and the Hôtel Niel, have prepared a program that you'll not want to miss!
Night of the Museums, artistic fever seizes Paris
You can enjoy these great Parisian institutions well into the evening, thanks to the Night of Museums on Saturday, May 19th! The Grand Palais presents several incredible exhibitions that you can discover for free from 20:00 to midnight on the evening of the event. The museum will host the artist Superpoze, who will perform his music show.
A short stroll from the magnificent Grand Palais building stands the Petit Palais and its art museum. Here you can admire a vast private collection of photographs of the place captured by seven artists: Stéphane Couturier, Bruno Delamain, Hélène Langlois, Vasco Ascolini, Julien Lescoeur, Flora and Jean-Christophe Ballot.
The Hotel Niel Paris, your favourite Parisian accommodation
Located in the elegant 17th arrondissement of Paris, the Hotel Niel Elysée has a soft, chic and vintage atmosphere. Situated close to the Arc de Triomphe, and not far from the Grand Palais and Petit Palais, this three-star hotel will be your haven of serenity during your Parisian getaway. This central position means you can explore the capital with ease before returning in the evening to the comfortable and welcoming atmosphere of your room at the Hotel Niel Paris. The rooms are all well-appointed, decorated with care, and perfect for a solo stay, or with your loved one, friends or family. Book now on our official website!
« Back to articles