Discover the Arc de Triomphe by day and by night
Publish on Tuesday, 10 October 2017 in Visit Paris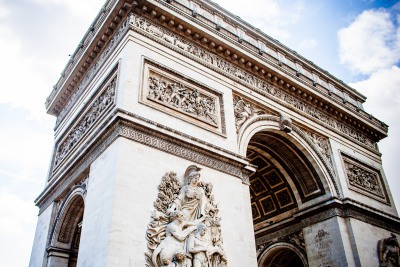 The Hotel Niel is located just a stone's throw from the Arc de Triomphe, an unmissable and incredible monument that we invite you to discover by day and by night!
The world's greatest arch
An iconic Parisian monument located in the 8th arrondissement, the Arc de Triomphe is as well-known as the Eiffel Tower. The world's greatest arch, designed by the architects Chalgrin, Joust and Blouet, sits majestically on the Place de l'Etoile in a perfect alignment at the top of the Avenue des Champs-Elysées. It is in the middle of a dodecagonal configuration from which radiates twelve avenues as designed in the 19th century at the initiative of Baron Haussmann. This monumental Parisian building is 50 metres high and 45 metres wide.
The history of the Arc de Triomphe
This imposing work was commissioned by Napoleon I in honour of the Grand Army and the Empire. In December 1805, the day after the victory over the Russians and Austrians at Austerlitz, Napoleon decreed that his victorious soldiers should, upon returning home, pass under a triumphal arch as was the custom in the days of ancient Rome. In 1836, following various delays, the Arc de Triomphe was finally completed and inaugurated by King Louis-Philippe 1st. At the end of the First World War it was dedicated to the memory of the soldiers who died for France.
Discover this colossus inside and out, day and night
Today, the Arc de Triomphe houses a museum that traces the stages of its construction and the ceremonies that centred upon it. Under the arch burns the eternal flame of the Unknown Soldier, rekindled every day at 18:30. You can climb to the summit of the arch via a magnificent staircase of 284 steps (or go by the lift!) to enjoy a panoramic view of the capital. At night, however, is when this colossal monument reveals the sum total of its magic. This is when the illuminated streets, the great Parisian monuments and the Iron Lady sparkle with a thousand lights that will take your breath away.
« Back to articles