The Louvre, the finest museum in the world
Publish on Wednesday, 10 May 2017 in Events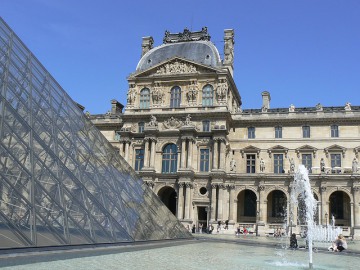 An essential part of any stay in Paris is a visit to the Musée du Louvre, near the Hotel Niel. The Louvre, the largest museum in the world, is home to thousands of treasures! To complete your cultural break in the capital, don't miss the Night of Museums, a very special experience that awaits you on May 20th, 2017.
The Louvre, a city within the city
The Louvre Museum, a former royal residence, is an incredible labyrinth of galleries, rooms, corridors and stairs spread over several floors; a veritable city within the city brimming with magnificent artefacts. It owes its international renown to its collections drawn from ancient civilisations, including Oriental, Egyptian, Etruscan, Greek, Roman and more. The rooms of this awe-inspiring building contain nearly 35,000 paintings, sculptures, drawings, ceramics, archaeological objects and other fascinating items. The world-famous artworks on display include the Mona Lisa, The Raft of the Medusa, the Venus de Milo and the Winged Victory of Samothrace.
If you plan to visit the Louvre, we recommend that you buy your tickets in advance so you can skip the queues. With your ticket, valid all day, you can enter and leave the museum as you wish. To make the most of the Louvre, we advise you to take your time and not try to see more than two collections in the same day! Why not try an evening tour? These offer a different atmosphere and stunning views of the Cour Carrée, the Pyramid and the Seine.
The Night of Museums
Culture lovers and night owls, the next Night of Museums is an event made for you. This cultural, educational and fun event is an opportunity to discover, free of charge and in a different light (so to speak!), the museums of Paris and creations that are the pride of our heritage.
On May 20th you can enjoy a selection of exceptional activities, guided tours, light installations, creative workshops, concerts, conferences, shows and tastings designed to make culture more accessible to all. Some 1,300 museums in Paris and the Ile de France stay open well into the evening so you can experience them in a whole new way. If you visit with your family, don't miss the workshops and exhibitions for children offered by many museums, available from the afternoon.
« Back to articles