The Jardin d'Acclimatation: a place of nature and pleasure
Publish on Friday, 10 June 2016 in Visit Paris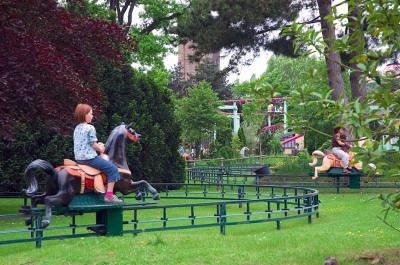 Whether you're with family or friends, you can't beat a good park for relaxation and entertainment. Halfway between the Porte de Neuilly and the Porte des Sablons, the Jardin d'Acclimatation offers a green haven that is peaceful and yet full of interest, and just perfect for walks and picnics. It also features a great selection of amusements for children. Come and discover this delightful gem of a park during your stay at the Hotel Niel!
A lush and verdant paradise
The Jardin d'Acclimatation extends across 20 hectares, and is a beguiling combination of botany, zoology, and both traditional and modern amusements. Beautiful trees, exotic gardens and lush lawns surround playgrounds that ring to the delighted laughter of children here on the northern fringe of the Bois du Boulogne. Opened in 1860, the park was originally a place for the aristocracy to promenade amidst exotic flora and fauna. Today it holds the requirements of education and entertainment in perfect balance. Among other attractions, it has a science museum, a miniature golf course, puppet shows, pony rides, a miniature railway, and greenhouses brimming with orchids, palms and camellias.
Animals amidst the greenery
The Jardin d'Acclimatation is not a zoo as such, but many species of animals are on show. When the park was first conceived, it was Napoleon III who had the idea to 'acclimate' exotic animals here, hence the park's name. Today, birds with gorgeous plumage, peacocks, goats, bears and ponies cohabit peacefully, with the tamest ones wandering free, so the Jardin d'Acclimatation still offers a wonderful overview of the animal world.
Attractions for young and old
All ages can enjoy a relaxing and fun time in the Jardin d'Acclimatation in Paris. Younger guests can take a guided tour of the park on a donkey, pony or camel. The whole family can enjoy entertaining and informative discovery workshops. The park also offers traditional fairground rides, as well as a zip line and rope courses.
© Paris Tourist Office - Photographe : Amélie Dupont
« Back to articles