Seductive gourmet ideas for Valentine's Day
Publish on Friday, 5 February 2016 in Night & Gastronomy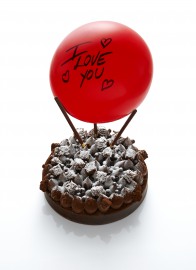 Every year, the most prestigious chocolatiers of Paris are bursting with ideas to seduce the most demanding of gourmets on Valentine's Day. And this year is no exception. Three renowned Parisian pastry chefs have gone out of their way to offer divine, original and simply irresistible treats, making it very difficult to choose. So the Hotel Niel invites you to discover its gourmet selection: Christophe Michalak, the l'Eclair de Génie and Michel Cluizel!
A personalised chocolate gateau to declare your love
Christophe Michalak offers Mon Koeur (My Heart), which has a delicate crispy milk chocolate crowned with a fine and delicate coconut mousse and a creamy and intense dark chocolate. That alone should be enough to declare your love, but if not, remember that this flavour fiesta can be personalised. Simply inflate the passion-red balloon included, write your romantic message on it, and carefully place it upon this stunning gourmet dessert. Original, no?
The Pont des Arts, symbol of love
The Maison Michel Cluizel, renowned chocolatier, has created a chocolate masterpiece symbolising the tradition of the lovelocks of the Pont des Arts, a key location for all lovers in Paris. A heart that is half milk and half dark chocolate is linked by a padlock and keys. The packaging is coloured by the red hue of passion. It's a concept to delight the most romantic of us!
Declare your love with a Rock'n'Roll eclair
Finally, for those who prefer a luscious éclair, we recommend the Rock 'n' Roll Tattoo collection created by Christophe Adam of l'Eclair de Génie. Salted butter caramel, raspberry, grand cru chocolate and vanilla are the flavours to choose from; something for everyone. And to add to the fun, you can select the design that will adorn the éclair and have a sweet little word or two colourfully inscribed in the icing, adding that all-important personal touch.
So what will you offer your better half? For us the choice is clear; it will have to be all three!
« Back to articles