Enjoy the magic of Christmas in Paris
Publish on Thursday, 10 December 2015 in Events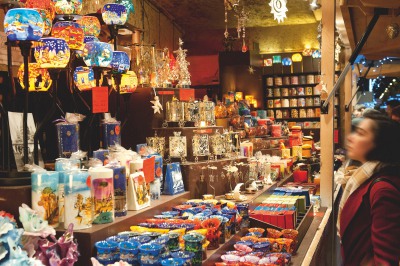 When December approaches, the capital dresses in a thousand lights and offers the many pleasures of one of its largest Christmas markets: the Champs-Elysées. To enjoy the wondrous spectacle of 2.5 kilometres of Christmas illuminations festooned along the length of the most beautiful avenue in the world, as well as the many other festive wonders of Paris, opt for some welcoming accommodation at the Hotel Niel, a nearby 3 star hotel with comfortable and cosy rooms and apartments.
Fine foods and beautiful handicrafts for Christmas
At the Christmas market on the Champs Elysées, you can immerse yourself in a Christmas fairyland all the way through until early January. Taste the culinary specialties and produce of the various regions of France. Treat yourself to something special, or discover an original gift for friends or family, all crafted by French artisans or artists. Give your children a fabulous family outing by taking them skating on the Avenue's gigantic ice rink. Walk the aisles of the market admiring the twinkling lights and Christmas decorations scattered all along the Avenue. Prepare to be amazed as night falls and the soaring structure of the Eiffel Tower becomes a breath-taking vision of splendour, illuminated by a thousand golden lanterns.
Discover the capital dressed in her Christmas colours
Having visited the Christmas market on the Champs-Elysées, why not discover the myriad other colours, scents and tastes that Paris offers at this time of year? If you love festive illuminations, the capital abounds with them. Go to Montmartre, Saint-Germain des Prés, the Place Vendome or the Eiffel Tower to admire shimmering garlands, shooting stars, glittering snowballs and fir trees sparkling with light. Don't miss the world-famous department stores, decked out with amazingly elaborate seasonal displays and competing with one another to offer the most unforgettable magical Yuletide world for visitors to dive into.
© Paris Tourist Office - Photographe : Daniel Thierry
« Back to articles