Christmas markets in Paris; soak up the festive atmosphere
Publish on Monday, 5 November 2018 in Flavors and Gastronomy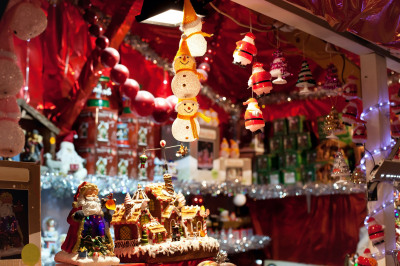 The end of the year is coming fast! This is the time when Christmas markets spring up in neighbourhoods throughout Paris, offering you the unmissable opportunity to discover their unique and magical atmosphere. Beautifully illuminated and utterly inviting, they are a seasonal feast of picturesqueness, the spicy scents of mulled wine and the tempting aroma of roasted chestnuts. Come along and browse with your family and enjoy some last-minute gourmet shopping.
The big return of the small wooden chalets
The market stalls are often adorable little chalets made of coloured wood adorned with garlands. Looking like pixie houses, they add considerably to the warm and welcoming atmosphere that you'll be unable to resist. These mini wooden chalets are filled with artisan foods, decorations for the Christmas tree or the nursery, handicraft items, local produce and more. There's so much festive inspiration to be found, so seize the opportunity to do some shopping for unique decorative items for your home and Christmas table, and find THE last-minute gift that will always please. It's the perfect way to get into the Christmas spirit.
The most beautiful Parisian Christmas markets
Among the most famous Paris Christmas markets are those that take place at the foot of the Montparnasse Tower and in La Défense, where more than 350 wooden chalets offer a wide choice of gastronomic specialties from the French regions and provide the opportunity to stock up on quality products, with the added pleasure of tasting them on the spot.
Christmas markets such as the one in Saint-Germain-des-Prés, located around the church of this historic district, will immerse you in seasonal good cheer.
More magic can be found in the legendary Montmartre district, where a colourful market stands on the forecourt of the famous Sacré-Coeur Basilica. Meanwhile, the Place des Abesses Christmas market is particularly aimed at children, who are at the centre of the entertainment with many shows specially created for them.
******
For more information :
---
Hotel Niel, a 3-star hotel near the Triumph Arc
« Back to articles