An Oriental ambience in Paris for the Chinese New Year
Publish on Tuesday, 10 January 2017 in Events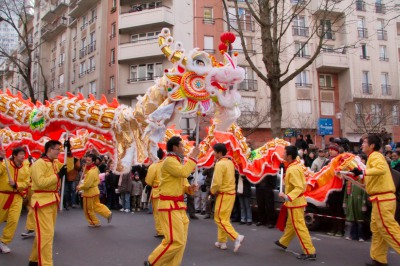 As December's celebrations fall behind us January can feel a little bleak. But don't worry, because on the 28th there will be all the colour, spectacle and excitement you can handle as Paris ushers in the Chinese New Year. Parades, dragons and fireworks will bring festive joy to the capital's streets and you can join in with the fun. And if all this gives you a yen for the Orient, the Hotel Niel recommends the Musée Guimet, dedicated to Asian art.
Chinese New Year: the Monkey makes way for the Rooster
As of January 28th, Asian communities throughout the world begin their New Year or Spring Festival period, and Paris offers Chinese New Year events aplenty. From the Place de la Republique to the Rue Beaubourg, via the Rues du Temple, Bretagne and Turbigo, you can follow a festive parade that includes elaborately costumed dancers, fearsome dragons and lucky lions. The town hall of the 3rd arrondissement offers various events, including exhibitions, demonstrations of martial arts and concerts of traditional music.
The most famous parade in Paris is undoubtedly the one which takes place in the 13th arrondissement. Here you can experience a unique atmosphere as a vibrantly-hued dragon is awakened and begins to dance through the streets. The town hall of this arrondissement will also offer numerous activities. The parade begins at 13:00 on the Avenue d'Ivry.
Two other parades are organised in the city. Head to the Place Gambetta in the 20th arrondissement, where the party will be in full swing from 10:30. On the forecourt of the town hall of the 11th arrondissement's town hall, demonstrations of martial arts will add to the excitement.
A trip to the land of Asian art
If you want to know more about Chinese culture and history, as well as that of other Asian countries, the essential place to go is the Musée Guimet. Since 1889, the museum has exhibited its extraordinary collections, which cover five thousand years of history and contain artefacts originating in lands from India to Japan. And don't be surprised if you come face to face with contemporary work, as the museum regularly hosts current artists. See everything from monumental sculptures to intricate little jewellery boxes, samurai armour to Khmer treasures and Indian fabrics to Chinese porcelain before browsing in the bookshop, which offers a very wide range of works on the Asian arts. A beautiful Japanese-style garden completes the experience.
« Back to articles