Champs-Elysées, an unforgettable stroll on a legendary avenue
Publish on Friday, 10 March 2017 in Visit Paris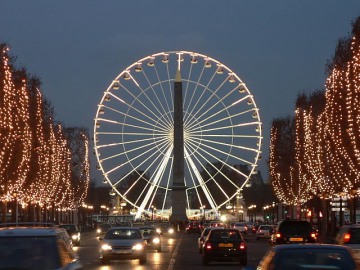 The Avenue des Champs Elysées, which stretches majestically from the Place Charles de Gaulle to the Place de la Concorde, certainly deserves the accolade of 'the most beautiful avenue in the world'. Along this iconic thoroughfare of nearly 2 kilometres (1.2 miles) in length, from the Arc de Triomphe at the western end to the Jardin des Tuileries in the east, stroll tourists and Parisians, summer and winter, at all hours of the day and night. The Hotel Niel is ideally located just minutes away.

There is everything you want on the Champs Elysées

Thus sang Joe Dassin and he was not far from the truth ... 'Les Champs' is regarded in the same way as the Eiffel Tower; as a symbol of Paris. Boutiques and brands abound on the avenue, each wanting to appropriate a small part of the legend of the place.
This world famous avenue, an emblem of the prestige of Paris, hosts an impressive variety of shops, as well as a host of luxury brands. It is here that you can find Louis Vuitton, Mont-Blanc, Lancel, Cartier and, of course, Guerlain, which at no. 68 continues to impress as an example of the true Art of Living à la française. The Champs Elysées is home to everything that Paris has to offer by way of chic and elegance, all the way to the Ferrari boutique, which offers clothes, toys and souvenirs emblazoned with the emblematic name of the famous car manufacturer. The Hotel Niel also recommends another address not to be missed, the brand new Flagship Levi's at no. 76, where you'll find the jeans of your dreams.
The top tables tour
The greatest chefs have also gathered along this magnificent avenue to charm your taste buds in their famous restaurants and brasseries. At no. 10, the Terrasse de Lenôtre will seduce you with its tranquillity, its refined dishes and its unforgettable macarons glacés. Stop at Ledoyen, one of the city's oldest restaurants, to savour local delicacies and flavours from elsewhere amidst sumptuous Napoleon III style surroundings. At no. 99 is the famous Fouquet's, a beautiful brasserie with large bay windows. In this historic restaurant founded in 1899 you can simply enjoy a hot chocolate, watch the activity on the most beautiful avenue in the world and let yourself go... it's magic!
« Back to articles