Carte Blanche to Tomás Saraceno at the Palais de Tokyo
Publish on Wednesday, 5 December 2018 in Exhibitions and Museums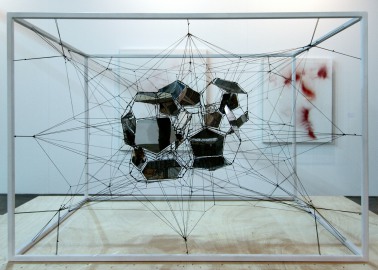 The Hotel Niel Paris recommends a magnificent, challenging and aesthetically bold exhibition at the Palais de Tokyo, running until the start of next year. This Carte Blanche by the contemporary Argentinean artist Tomás Saraceno is a sensory and conceptual journey, accessible to all the family, in the superb setting of the Palais de Tokyo.
An exhibition that shows the world
This exceptional exhibition shows the world as we live it, through its various components. From carbon dioxide to star dust, the elements are put forward as so many riddles and characters. Visitors of all ages are invited to rethink how they live, what we live in, and the world around us. Lose yourself in a maze of resonances at the crossroads of art, science and architecture when you visit the Carte Blanche to Tomás Saraceno exhibition at the Palais de Tokyo until January 6th, 2019.
Palais de Tokyo; the must-see exhibition space in Paris
A true cultural institution in Paris, the Palais de Tokyo hosts amazing and daring exhibitions of modern and contemporary art. Come along and see an exhibition, but also check out the bookstore, noted for its cutting-edge selection, enjoy a drink in the bar or a meal in the restaurant. Offering fascinating cultural experiences on the Seine, the Palais de Tokyo is one of the great art centres of Paris.
Your stay at the Hotel Niel Paris
With its charming family home vibe and appealing décor giving pride of place to antiques, the Hotel Niel Paris delights travellers eager for comfort and beauty. Conveniently located in the 17th arrondissement, the Hotel Niel Paris offers spacious, bright, and tastefully decorated rooms.
******
For more information:
- Carte Blanche à Tomás Saraceno
- Palais de Tokyo
---
Hotel Niel, a 3-star hotel near the Triumph Arc
« Back to articles