At the Petit Palais you can enjoy a coffee after the exhibitions
Publish on Monday, 10 September 2018 in Visit Paris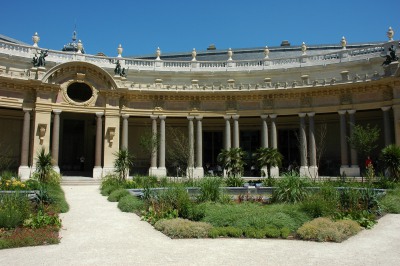 The Petit Palais, a perfect combination of the spirit of the 19th century and that of modernity is an institution in Paris. It invites you to discover a wealth of fascinating exhibitions throughout the year but also to relax in its charming café following your visits. Exhibitions, coffee, snacks... the Petit Palais combines cultural discovery and pleasurable relaxation in the heart of one of the most fashionable areas of Paris, and it's easily accessible from the Hotel Niel.
Treasures in a historical setting
An architectural masterwork built for the Exposition Universelle of 1900, the Petit Palais faces the Grand Palais in the lively Champs-Elysées district and serves as the showcase for the Museum of Fine Arts of the City of Paris. It houses prestigious collections tracing the history of artistic creation from antiquity to the beginning of our present era. With around 1,300 works (paintings, sculptures, objets d'art, etc.), it covers a wide range of art in which antique and medieval collections, Art Nouveau creations, Flemish and Dutch paintings, French and Italian Renaissance works and the main pictorial currents of the 19th century all coexist. Here you can admire the masterpieces of the greats, including Delacroix, Sisley, Monet, Toulouse-Lautrec, Renoir and Courbet.
A relaxing snack break at the Petit Palais Café
When you visit the Petit Palais on a beautiful sunny day you should also take the opportunity to take a stroll in its lovely inner courtyard tropical garden and along its terrace sheltered by a peristyle supported by columns and decorated with paintings and mosaics. In this unexpected green setting, amidst the palm trees, pond and wild grasses awaits a charming café and its gourmet menu, inviting you to take a relaxing snack break you'll certainly enjoy. Let yourself be tempted to try a mokaccino Viennese coffee and satisfy the appetite you've worked up with a salad or some pasta.
« Back to articles