Art Paris Art Fair, international modern and contemporary art in Paris
Publish on Thursday, 10 March 2016 in Events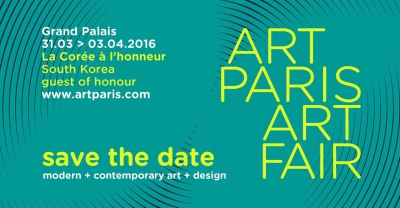 A fascinating and visually delightful key event in the art world is about to take place in Paris. From March 31st to April 3rd the splendid Grand Palais will once again be the venue for the annual Art Paris Art Fair, a celebration of modern and contemporary art on an international scale that brings together 143 galleries from 20 different countries. To commemorate France-Korea year, the vibrantly creative East Asian nation of South Korea will be this year's guest of honour. Be sure not to miss this event by booking your stay at the Hotel Niel!
Paris hosts one of the largest general art fairs in the world
Hundreds of artists from different backgrounds will see their finest works of modern and contemporary art presented at the Grand Palais during this huge exhibition that covers the post-war period to today. The Art Paris Art Fair also features 'Promises', a platform for emerging talent, and the 'Solo Show', which will feature in-depth looks at the work of 20 major artists! In a further innovation, and as a way of attracting travellers to the fair, the Solo Show of the Art Paris Art Fair will also be installing various works in AirFrance cars!
Many unmissable events to accompany the exhibition
Offshoots of the Art Paris Art Fair will also be taking place outside the Grand Palais in several notable locations within the capital. These include the gardens of the Palais Royal, the Cernuschi Museum and the Korean Cultural Centre. A conference on contemporary Korean art moderated by the commissioner of expositions, Sang-A Chun, will take place on Friday, April 1st at 15:00. The day will end with a magnificent digital art show projected on the wonderful façade of the Grand Palais; an immersive and impressive visual experience not to be missed! For a few days Paris will be the international ambassador for contemporary art and you can be there to experience it all during your stay at the Hotel Niel!
« Back to articles